Camoplast & Camso Tracks for Sale
Are you tired of getting stuck in the mud like a piggy in a pen? Tired of feeling like you're on a never-ending rollercoaster ride while off-roading? Well, put your seatbelts on folks, because we have the solution for you: Camso 4S1 & X4S Track Systems!

We have Camso tracks for sale and ship all across the US and Canada. We are based in Springville, UT if you want us to install them for you.
Contact us at 1-800-430-7120 (Canada & US Toll Free)

Camso tracks are built to handle any terrain, whether it's mud, snow, or even a rocky mountain. With Camso Tracks, you'll be able to climb those rocky hills like a mountain goat, plow through snow like a boss and go over thick mud like a swan on a lake.
The Camso 4S1 & X4S track systems are designed to fit a variety of vehicles, including ATVs, UTVs, so you don't have to worry about compatibility issues.

Just select your UTV from the filter and select the model to find compatible Camso Tracks.
Choose Camso Tracks for Sale in two steps:
From the product filter choose UTV brand name
Select compatible Camso track system for your UTV model
We are family owned business based in Utah and we ship all across US and Canada.

Not sure which to pick, give us a call;
Product Details (UTV 4S1 Track System)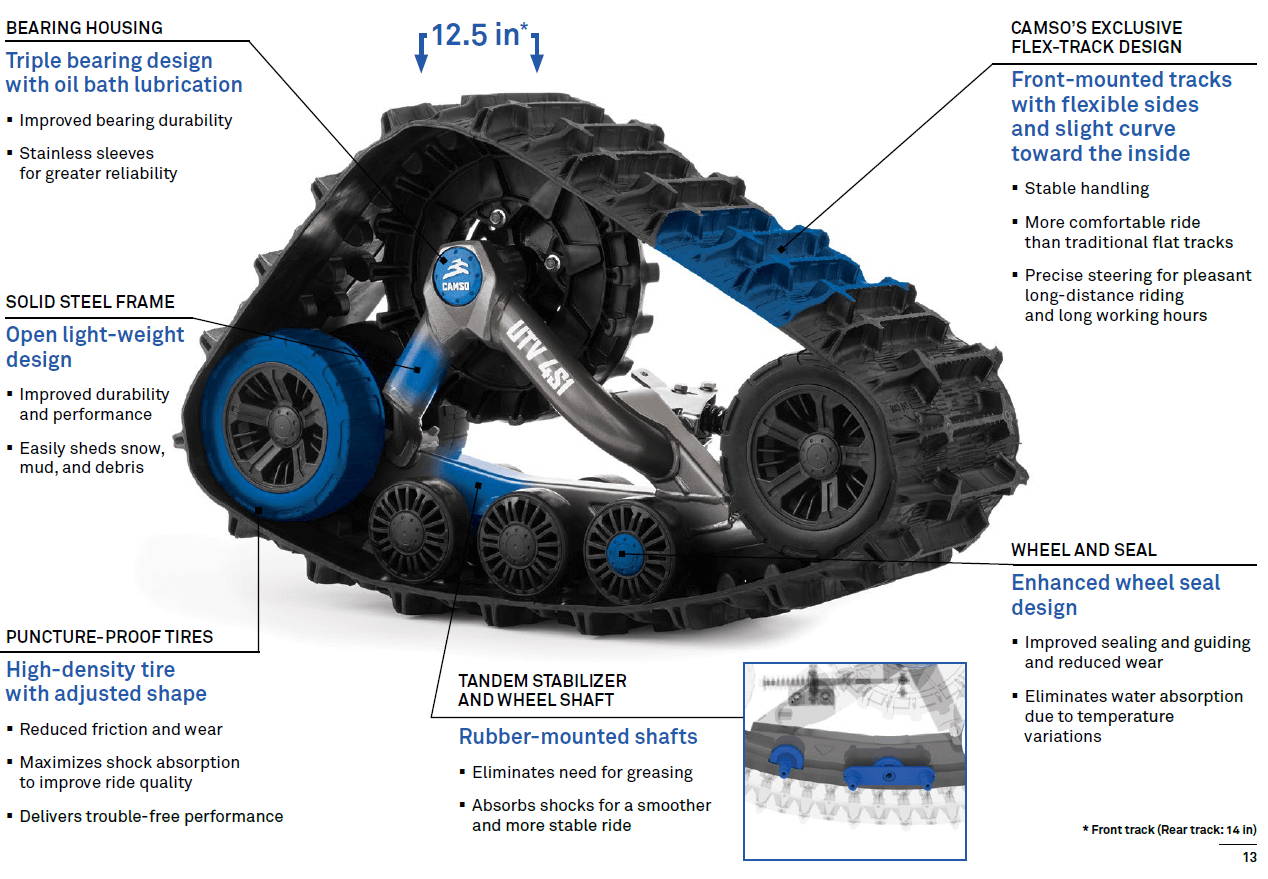 Camso track systems
offer increased traction and stability, allowing you to navigate through rough terrain with ease. Plus, our tracks are equipped with a unique suspension system that reduces vibrations and improves ride comfort.
It would take you 2-3 hours to install the tracks by yourself or we can also install them for you. Maintenance is minimal. And don't worry about our tracks falling apart on you, they are built to last. Plus, you'll be able to tackle any terrain with confidence, and look good doing it.

We sell Camso tracks for all major UTV brands: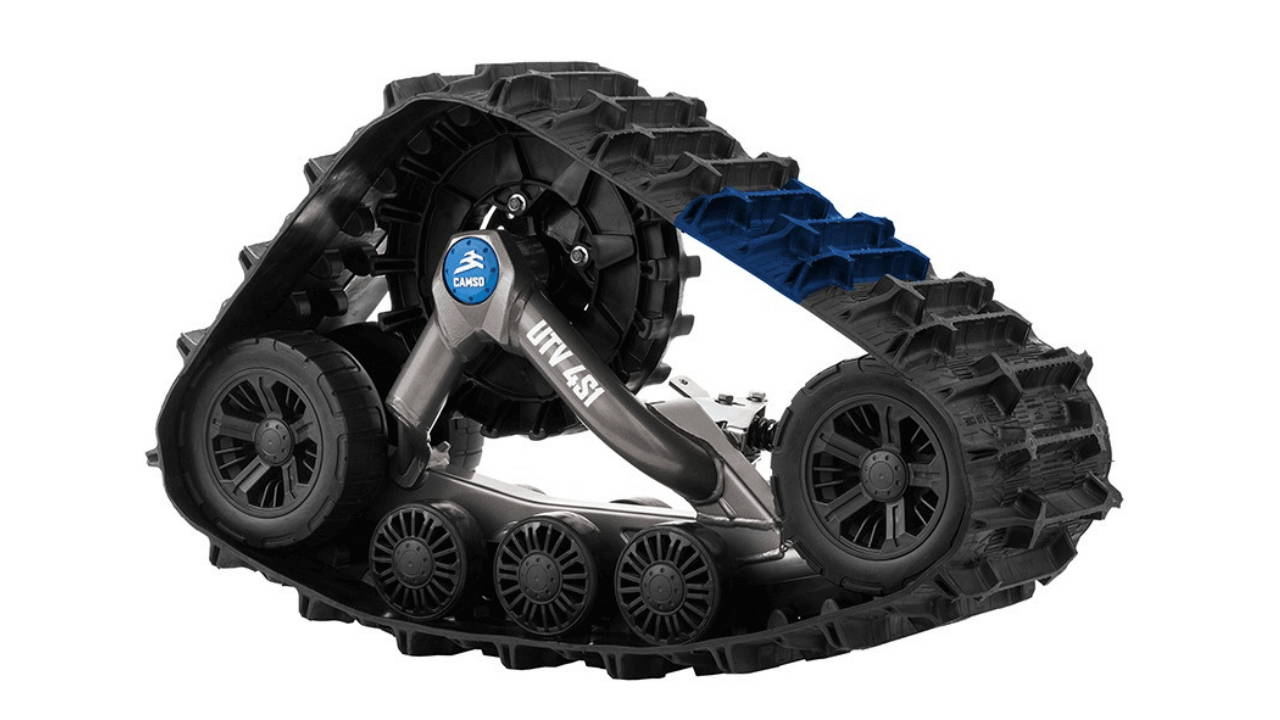 Camso UTV 4S1 Track Technical Specifications
TECHNICAL SPECIFICATIONS
SYSTEM
UTV 4S1
Offset (length) 1
Front: 26.5 in. (673 mm) Rear:35 in. (889 mm)
Offset (width) 2
7.25 in. (184 mm)
Weight
Front: 103 lb (47 kg) Rear: 120 lb (54 kg)
Height
Front: 25 in. (637 mm) Rear: 24.7 in. (626 mm)
Length
Front: 42.5 in. (1081 mm) Rear: 52 in. (1321 mm)
Width
Front: 12.5 in. (318 mm) Rear: 14 in. (356 mm)
Mounting hardware weigth
Approx. 6.25 lb (2.75 kg)
RUBBER TRACK
Width
Front: 12.5 in. (318 mm) Rear: 14 in. (356 mm)
Length
Front: 98.5 in. (2507 mm) Rear: 116.7 in. (2964 mm)
Lug height
Front: 1.125 in. (29 mm) Rear: 1.125 in. (29 mm)
PERFORMANCE
Ground surface
2520 sq. in. (1.62 m²)
Ground clearance (average)
Increased by 5 in. (127 mm)
Maintained speed (average)
⅔
SPECIFICATION
Drive type
Internal drive
Sprocket
15 to 18 teeth
Rubber track
Front: Flex Rear: Flat
Frame
Carbon steel
Idler & mid-roller Wheels/Tire
132 mm double-bearing mid-roller wheels (width: 50 mm) 241 mm double-bearing flat free tires. Bladder-type wheel cap and face seal.
Guide
Molded UHMW
Hub and bearing
Oiled 3-bearing with forged steel multi-bolt. (4-5) pattern hub.
Tandem & suspension
Rubber mount steel tandem. Rubber mount aluminium shaft axle. Maintenance free.
Anti-rotation
Redesigned mild steel anti-rotation single rate spring and progressive damper. Quick connect steering limiter design.
MAINTENANCE
Installation time
< 2 hr
Subsequent
< 1 hr
Got any questions, contact us or visit our Camso Tracks FAQ page!
So don't wait any longer, upgrade to Camso 4S1 & X4S Track Systems today and experience the difference for yourself! Don't be the only one at the off-road park still stuck in the mud while everyone else is having the time of their lives.
Order your Camso tracks from Snow-Machines.com today and join the off-roading elite!

We have most Camso track models for sale and available for shipment the next day to almost anywhere in the US and Canada. If you're in the Springville, UT area, we also offer professional installation services. For more information, please contact us at 1-800-430-7120 (Canada & US Toll Free).